SEMSA Mounted Shooting Information and Requirements
Mounted Shooting is similar to other rodeo type events. It is a re-creation of the old west where cowboys were chasing the bad guys shooting from their mounts. Today, like rodeo events, it's an exciting equine speed competition.
We have two types of performances depending on what is desired.
Demonstrations - "Demos" basically consists of providing the audience with an in-depth understanding of what mounted shooting is about.
Exhibitions - Exhibitions are primarily a "show" type performance with very brief information.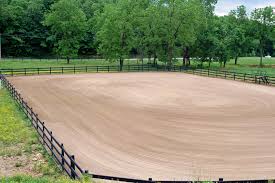 The safety of our riders, horses and spectators is paramount. In order for us to provide a safe and enjoyable performance, the following is needed;
Arena - The arena should be large enough to accommodate equine speed events. The arena perimeter (fence/railings/gates) must be able to secure the area. Footing must be standard sand, clay or composite material (no grass) capable of sustaining equine speed events.
AC/110 Power access should be available at or near the arena, Arena lighting must be sufficient for safe riding for any after dark events.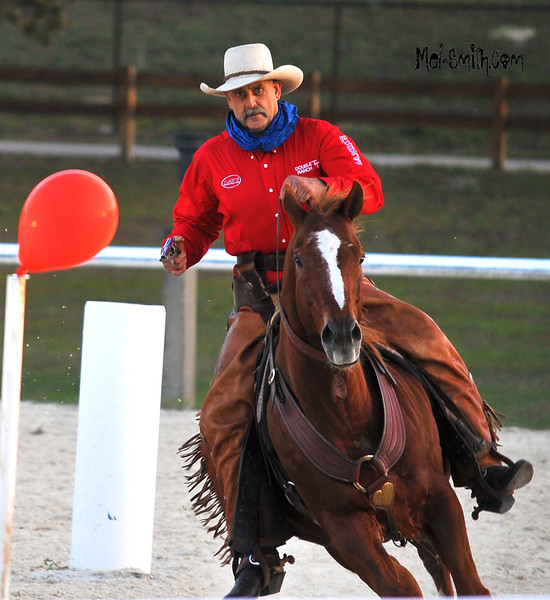 Mounted Shooting - 101
So..… what is this thing called Mounted Shooting?
As with any competitive equine activity, there is a certain amount of preparation involved. Although we can't cover every aspect of this sport in a few paragraphs, for those inquiring equine minded folks who are curious, here are some basics!
The Guns – This is what really separates mounted shooting from the other equestrian events. The guns that are used are 1800s period single action revolvers, carbines, lever action rifles and shotguns. The ammunition used is similar to "Hollywood Blanks". These blanks consist of a cartridge (casing), primer and gun powder only. There is no bullet or projectile, other than the powder itself, that leaves the gun. The powder has a range of approximately twenty feet before it simply dissipates, but this is enough to hit the target which is an inflated balloon.
The Rider – The Mounted Shooting competitor should be comfortable with, and well versed in the safe handling of a firearm. Although only "blanks" are used, we still use standard firearm safety measures! The rider should be able to safely ride and navigate their horse through various courses using one hand (there will be a gun in the other). Although this is a timed/speed event, entry level riders do quite well at slower speeds until they gain more experience!
The Horse – The first and obvious task is to have a horse that will allow the rider to discharge a firearm from the saddle! Before the rider can successfully shoot any target, the horse must first place the rider in the optimal shooting position so the shot can be made. The horse must wait for and rely on the rider for instant guidance and corrections throughout the course. There is no restriction regarding breeds.
The Organization – Southeastern Mounted Shooters Association (SEMSA) is a local organization that promotes mounted shooting, organizes local competitions and provides the training needed to participate in the sport keeping you and your horse safe! The SEMSA staff is comprised of several very talented trainers and coaches from various disciplines and NRA firearms instructors. United Mounted Shooters Association (UMS) is the national sanctioning body for competitions and provides the rules, insurance etc.